Did you know that nearly a third of all accidents happen from Memorial Day to Labor Day? This is about more than bent fenders and wrecked rear bumpers. June is the deadliest month of the year, with a tragic spike in fatal collisions involving teenagers.
Part of this is because the roads are busier. Road trippers and young drivers, unfamiliar with local traffic patterns, are mixing it up with local folks trying to go about their daily routines.
What can be done about this? Though you may feel helpless to prevent every accident, you can stack the odds in your favor with a few simple steps.
Tune It Up
Heat stresses the heck out of your vehicle. Breakdowns and overheating are more common, putting you in harrowing, unsafe driving and roadside situations. Make sure your car is in top running shape. A reputable mechanic will also make sure your tires and brakes are good-to-go. It can be a lifesaver to have a professional check all systems. A fixed headlight, turn signal, or brake light might make the difference between being seen and being hit.
Focused Attention
Windows open. The music blaring. Summer is a time to feel free, but looking down at your device to change your Summer Buzz playlist to Hot August Nights might consume the vital seconds you need to see that traffic ahead has stopped. Same with adjusting the air conditioner. Eating, phone calls, texting, even an animated discussion with a passenger can be even worse. Pullover when you catch yourself getting distracted. It can be a life or death decision.
Beware of Cyclists and Pedestrians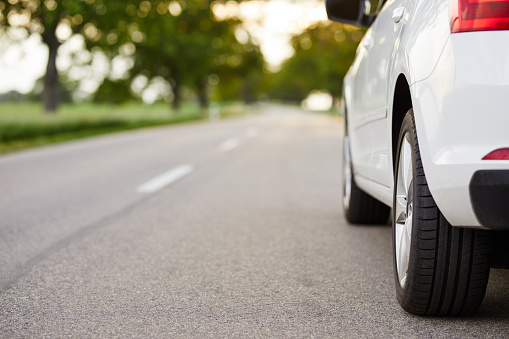 It's not just more cars out on the road during summer. There are also more people walking and on bikes. Crosswalks without signals can be especially dangerous. In addition, the kids are out of school. Drive more cautiously near parks, playgrounds, residential areas, and community pools.
The law in California is to give cyclists 3 feet of space, but 4 is safer. It may take you a moment more to maneuver around a bike, but a moment of impatience can cause a lifetime of regret. Use your turn signals so everyone you see (and those you don't) can clearly see your intentions!
Straight Talk With Your Teen
It's pretty simple. Car accidents kill more teens than anything else. Your teen is going to want to go out on adventures with their newfound freedom. Talk to them about the importance of safe driving. Speak to them in plain language about the dangers of distracted driving, having too many passengers, and driving too fast or while sleepy or intoxicated. Follow up so they will know you're serious.
And be a good example. Seeing a sermon is much more effective than hearing one!
At Cline Collision Center, we want you to be safe all summer long. But when you run into trouble (or trouble runs into you) bring your car to us and we'll return it in pre-collision condition. We offer superior craftsmanship and use only quality parts which is why it's no accident that we have so many satisfied customers. Call 707-591-9909 or contact us online for the very best in Sonoma County autobody repair!