Why Are Auto Parts So Scarce These Days?
Accidents happen. But these days, it's taking a lot longer to get repairs.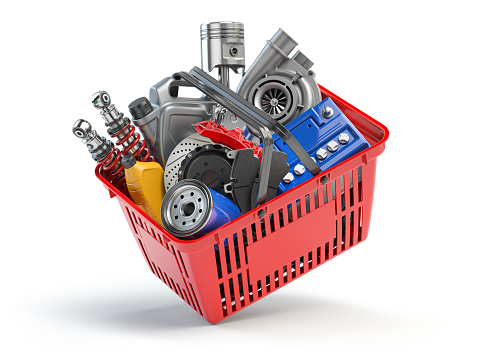 From dealerships to collision repair, supply chain issues continue to affect the automotive industry. In some cases, it can take months to get parts, forcing many repair shops and parts distributors to find creative ways around the issue.
There are a few factors for this frustrating problem. First, there continues to be a labor shortage at both the plants and ports, leading to delays in production, as well as shipping. A significant amount of collision repair parts are manufactured in Taiwan, where many of the docks and ports are backed up. A larger issue is that auto suppliers have prioritized manufacturing parts for newer vehicles while slowing down production on aftermarket parts for older vehicles.
Since automakers' focus is on getting production for new vehicles back up and running, it's likely the issue won't be getting better anytime soon. Over the past year, automakers have struggled to keep up with the demand for these parts because of the global shortage of microchips that are used in vehicles. These microchips are used to power everything from heated seats to infotainment systems.
Some collision repair shops have found ways around the supply chain issues by finding rebuilt and re-manufactured parts to help their customers back on the road quicker. Unfortunately, even these parts have started to become more difficult to find. Cline Collision Center remains committed to using only OEM parts, which in some cases may be even more scarce.
Another thing to keep in mind is that supply chain issues have led to price increases. The Consumer Price Index on motor vehicle parts rose 10% from November 2020 to November 2022, according to the U.S. Bureau of Statistics.
It's not clear exactly when these issues will be resolved. Some experts predict the microchip shortage should start to recover mid-2022; others say the parts shortage issue as a whole may last into 2023.
What Should You Do if You Need Collision Repair?
Understandably, this isn't great news if you need repairs. However, depending on your make and model, you may still be able to get repairs for your car. The best thing to do is to contact us and see if we're able to get in the parts you need before you schedule your repairs. If you haven't been in a collision, stay alert and practice safe driving. No one ever wants to get into an accident, but with supply chain issues, repairs could take longer—especially if you have an older vehicle.
At Cline Collision Center, we realize how inconvenient it is to have to wait for your repairs. If you have questions or concerns about your auto body repairs or supply chain issues, we're here to help! Give us a call at (707) 591-9909 or send us a message online.
Receive periodic offers, rebates, and tips.